Wall-mounted transverse and parallel inSPORTline Wallar
€ 128.99
We will deliver by: ‭2022-02-09 DPD courier
Product warranty: 24 months
Description
If you want to strengthen your upper body, then the Wall-Mounted Pull-Up Bar & Parallel Bars inSPORTline Wallar is the way to go! This unique set includes both a pull-up bar and parallel bars - two separate constructions that will help you strengthen your back, arms, shoulders and abs. You can mount them wherever you want and focus only on your workout.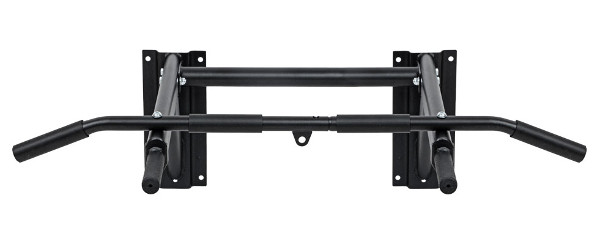 Aside from two pairs of handles, The pull-up bar also features 3 loops that allow you to attach a suspension system or a resistance band, further expanding your exercise options, allowing you to focus on other muscle groups, including legs. The top bar is 94 centimeters long and has a weight limit of 150 kg.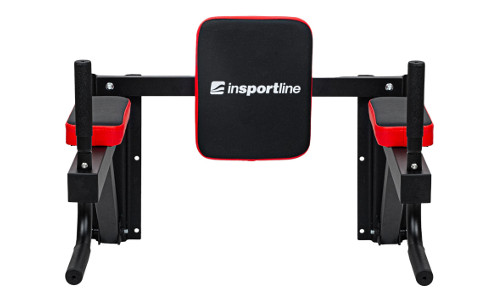 The parallel bars have the same weight limit as the pull-up bar - 150 kg. They will help you strengthen your pecs, arms and spine muscles. The heavy-duty padding on high-stress areas (forearm rests and backrest) should make your workout as comfortable as possible. The padded backrest and forearm rests, along with two pairs of handles allow you to perform push - ups (dips) and leg raise. Bodyweight workout is one of the most effective ways to strengthen stabilizer muscles!
Technical description (pull-up bar):
2 different grip angles
Rubber handles
3 loops for attaching a suspension system or a resistance band
Mounted to a wall with 12 screws (included)
Pull-up bar length: 94 cm
Distance between inner grips: 44.5 cm
Grip length: 12.5 cm (outer), 11.7 cm (inner)
Wall clearance (frame): 67 cm
Wall clearance (pull-up bar): 51 cm
Bar diameter: 26 mm
Weight: 6.1 cm
Weight limit: 150 kg
Suitable for home use
Technical description (parallel bars):
2 pairs of handles
Comfortable, foam-padded forearm rests and backrest
Mounted to a wall with 12 screws (included)
Distance between bars: 53.8 cm
Wall clearance: 74 cm
Grip length: 12.5 cm
Backrest dimensions: 30 x 23.5 x 4.5 cm
Forearm rests dimensions: 25 x 11 x 4 cm
Bar diameter: 26 mm
Weight: 8.5 cm
Weight limit: 150 kg
Suitable for home use
Specification
additional information
| | |
| --- | --- |
| Weight | 16.000000 kg |
| Dimensions | 19.000000x80.000000x40.000000 cm |